It's no secret that former "Chrisley Knows Best" star Savannah Chrisley is a big country music fan. When she showed Kelsea Ballerini's song "Love Me Like A Girl" some love on Instagram in 2021, she also wrote, "I swear my life is a country song." Chrisley even starred alongside her ex, Nic Kerdiles, in Matt Stell's "Prayed for You" music video in 2018.
Chrisley's dating history includes country musician Blaire Hanks — and Stell, as well. However, she revealed that she only went on one date with Stell. "The waters were definitely tested. You got to date to know where you got to land," she said on SiriusXM's "The Highway" (via E! News). She and the singer ultimately realized they made better friends than romantic partners.
Chrisley also interviewed "World on Fire" singer Nate Smith for her "Unlocked" podcast in January 2023 — the same month Smith scored his first No. 1 hit on Billboard's Country Airplay chart. On the show, Chrisley informed Smith that he was the first musician she'd ever interviewed but she didn't take it easy on him. She quickly delved into the emotionally fraught topic of Smith's divorce, which had taken place more than a decade earlier. "You were probably three years old," Smith quipped to Chrisley. (He's about 12 years older than the podcast host.) Chrisley was appalled to learn that Smith proposed to his ex-wife with a Ring Pop — but this wasn't enough to deter her from dating her guest.
Why Savannah Chrisley and Nate Smith didn't work out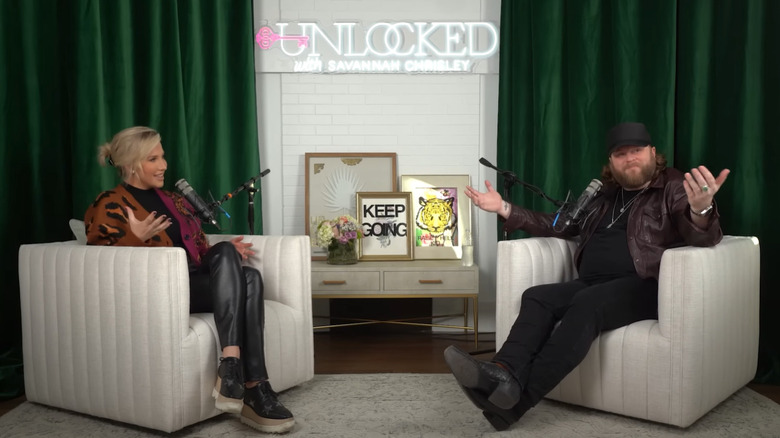 In a May 2023 episode of "Unlocked," Savannah Chrisley revealed that she and Nate Smith had ended their months-long, under-the-radar romance. She also made it sound unlikely that the "Whiskey on You" singer was shedding any bitter tears in his whiskey glass over their split. "It was such a great experience," she said, later musing, "Maybe it was the right person but terrible timing."
While Savannah walked away viewing Smith as a great guy, the exes' disparate life circumstances simply made it too difficult for them to continue seeing each other. Smith's country music career began skyrocketing around the time they started dating, which meant that he would be busy touring and promoting his debut album. Meanwhile, Savannah was still adjusting to her new role as the guardian of her brother, Grayson Chrisley, and her niece, Chloe Chrisley. Savannah gained custody of Grayson and Chloe when her parents, Todd and Julie Chrisley, began their prison sentences in January 2023.
Savannah said of her situation, "It's so hard for anyone to understand the level of trauma that's going on in my life right now." She also revealed that guilt played into the breakup, explaining that she didn't want to leave Chloe and Grayson behind to join Smith as he toured the country and attended country music industry events. "He needs someone who's going to be able to go to those things and enjoy them with him," she stated.
Savannah Chrisley talked dating with Nate Smith's duet partner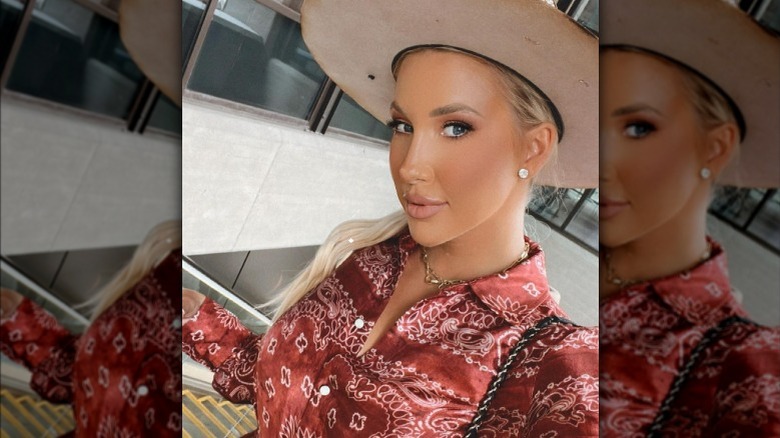 After Savannah Chrisley and Nate Smith split, Savannah interviewed Smith's "I Don't Wanna Go To Heaven" duet partner, Tenille Townes, for her "Unlocked" podcast. Savannah told Townes that she actually realized that her relationship with her ex-fiancé, Nic Kerdiles, wasn't going to work out when she heard Townes' song "When's It Gonna Happen" on the radio. Savannah also confessed that the question of when she'll find lasting love is something she often asks herself.
Savannah revealed that her 10 year old niece, Chloe Chrisley, has hilariously weighed in on her search for Mr. Right. "She looks at me, dead-faced, and goes, 'Sassy, you're on a dating app. You're very desperate,'" Savannah recalled. "And I go, 'Uh, excuse me?' She goes, 'You're literally on an app. You have to be desperate for a boyfriend.'"
Any guy Savannah does match with might find it hard to stack up against Smith when it comes to great date-night ideas. For one of their dates, Savannah accompanied Smith when he performed on "The Tonight Show Starring Jimmy Fallon." While sharing a life update with her "Unlocked" listeners, she said of their outings together, "We had so much fun, like the best time ever." During Smith's appearance on "Unlocked," he and Savannah agreed that they were looking for the same thing in a partner: someone they don't feel compelled to fix because they're willing to put in the work to do so themselves.